VicFirthGourmet.com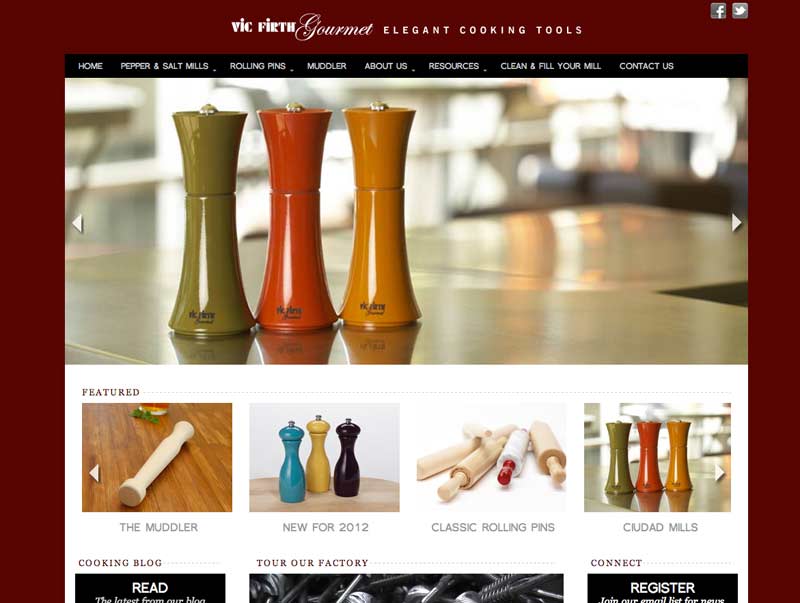 Link: VicFirthGourmet.com
In late 2010, Dick Smith, who ran the gourmet division of Vic Firth Inc, contacted me to see if I would be available to help him with some web and graphic design projects. I had worked with Dick back during my time at Vic Firth and was involved in some projects for the gourmet division: product photography, marketing pieces, custom engraving mock-ups for high-end customers, etc. He was having a hard time getting anything done with the in-house team, due to their heavy workload on the drumstick side of things, so he got the green light to go outside and work with me.
I will admit, I am always flattered when a former associate thinks enough of me to ask if I will do work for them, or refers me to someone who is looking for services that I can provide. It's really an honor to think that these people think enough of me to hire or refer my services. And, I am grateful for it.
A Brief History
Vic Firth was the timpanist with the Boston Symphony Orchestra from 1952 until the mid-2000's. He bagan making his own drumsticks and mallets for his personal use shortly after starting his career with the BSO, and quickly found that there was a demand for them amongst his students, and shortly thereafter, drummers all over the country, and world. Vic has a great story he's told about how he won the timpanist position with the BSO, where, in essence, he auditioned and was awarded an auxiliary percussion position (cymbals, triangle, etc) – which most guys, these days especially, would kill for. Vic being Vic, decided he wanted more, and walked back in and said something to the effect of "I don't want the position you offered me, but I think you should hire me as your timpanist". My guess is that the BSO was either so confused, taken aback or impressed with the young 21 year old's "suggestion", they went ahead and gave him them job as timpanist. It's a story that I often think about – if you want something, ask for it. You never know what might happen. In any case…fast forward many years to the 1990's – Vic's drumstick business is doing great, and he's bought a factory that makes them as well as other cylindrical objects – such as peppermills. He decides to absorb the peppermill business into his own (it was formerly known as the Banton Company), and Vic Firth Gourmet was born.
Interestingly enough, I came to work for Vic Firth in 2001 (my initial interview with the company was on 9/11, the afternoon of the infamous terrorist attacks). I spent the next 8 years working in an office that sat 5 feet from Vic's, and had the opportunity to work on some projects that really added to my "jack of all trades" toolkit.
Back to the gourmet project – Dick wanted a new website that would showcase the products in a better light than their existing Miva-based store. I built the site on top of WordPress and Shopp, and launched it in late 2010. We continue to work with Dick and Vic Firth Gourmet on a variety of projects.