MWPublications.com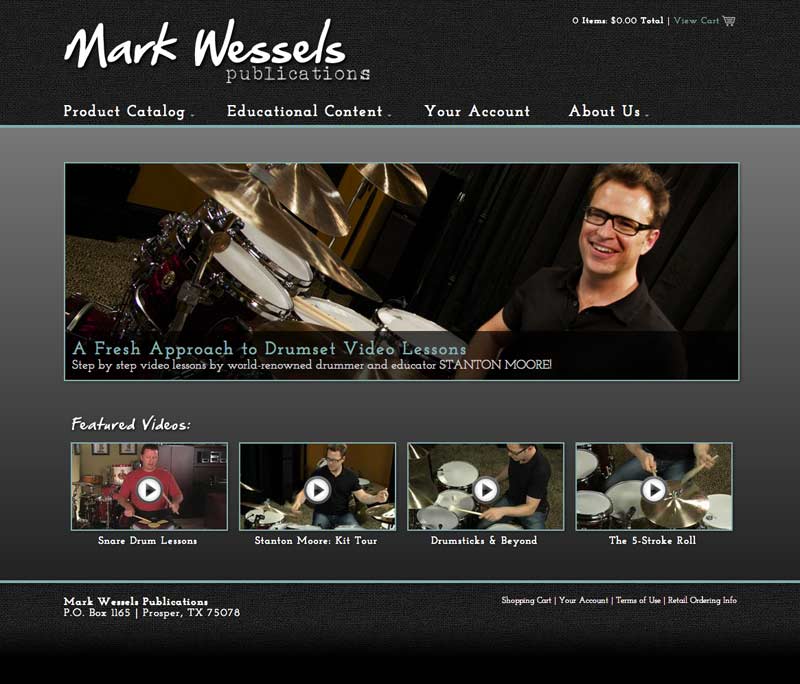 Link: MWPublications.com
In late 2011, Mark Wessels contacted me about a project that would involve redesigning his website, which included e-commerce functionality for his excellent percussion method books, but the main motivator was his desire to make digital downloads available for a new series of lessons with well-known New Orleans drummer, Stanton Moore. Mark's previous website was based on the Miva Merchant platform, which was solid and got things sold, but wasn't much to look at. My plan was to move him to a modern CMS (WordPress) and to implement an e-commerce solution that I've used many times, with good success, Shopp.
What made this project and proposal so interesting and special to me, was that Mark and I worked together for a number of years at Vic Firth. Mark is the Director of Internet Activities, which means, in essence, he's their web guy. Mark is a close friend, mentor and was a great advocate of mine as I weaved my way up and around the job ladders at Vic Firth. He was also responsible for introducing me to and ultimately getting me hired with the guys at Hudson Music in 2007, which led directly to my current status. I've always looked to Mark with respect, so to have him consider me to work on his own website was rewarding, to say the least.
We started with the traditional paths of site mapping, wireframes and then on to thedesign elements. The design process was short – Mark liked what I had put together, and so I got started on the process of building out the templates that would become his website. A few weeks and tweaks later, and the new MWPublications.com website was up and running! We did opt to hold off on the digital downloads at first, as Mark still had some work to do on the products with Stanton. We circled back and launched the download function in early Fall, 2012!