Drum Guru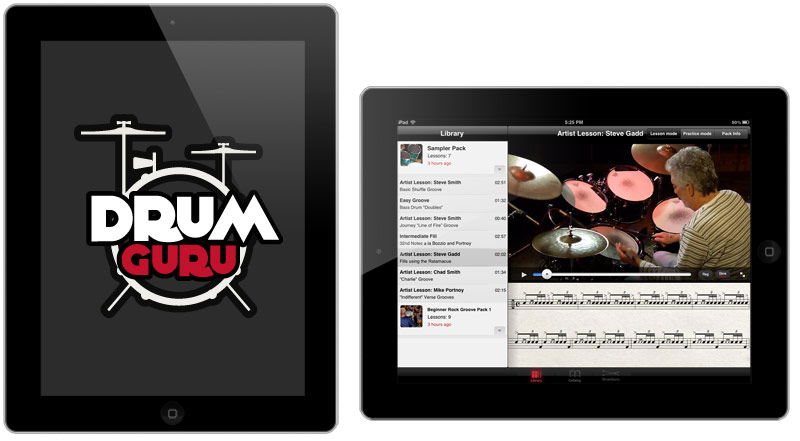 Link: DrumGuru.com
Drum Guru is the brainchild of music instruction video pioneer, Rob Wallis. Rob started as a drummer in New York, purchased the Drummers Collective in the 1980, and started the music education video revolution (along with co-owner Paul Siegel) in the mid 1980's with DCI Video Productions. Rob also co-owns Hudson Music, which continued the spirit of those great instructional videos of the 80's, but ventured into the digital realm with the advent of DVD.
I first met Rob in 2006 when I was working for Vic Firth, and began doing some work for Hudson Music on a freelance basis. In 2008, Hudson Music hired me to be their full-time digital content director, and to launch a digital delivery system we were calling "DrumTV.net". Mid-project, some cold feet emerged from one of the partners, and the project was shut down. Hudson Music elected to keep me on board, and I began to absorb other facets of work at the company, including the usual suspects of ad creation, packaging design, etc…
Sensing that the DVD was falling out of favor, Rob decided to strike out on his own with a new venture that would deliver similar content as to what he has been producing, but through the "container" of an iPad app. He immediately tapped myself and Joe Bergamini as his right-hand men. We began the process of sourcing a developer and getting our ducks in a row in regards to exactly what this thing would do.
Rob and I acted as co-project managers, Rob with more of a conceptual overview and communicator, and me to develop the initial RFP docs, wireframes and specs. I was the technical advisor (evolving to technical manager once the app launched). It was my role to set up anything on our end that was required to "feed" the app – including databases, fileservers, social media accounts, Apple developer accounts, etc. I also was called on to test and create the spec for video encoding for the app.
After a LONG development period, Drum Guru launched in late-summer 2012. It's a pretty cool project, featuring some massive powerhouse names in drumming such as Mike Portnoy (Dream Theater), Steve Smith (Journey), Chad Smith (Red Hot Chili Peppers) and Steve Gadd (a household name in drumming).
My role with Drum Guru continues as I create and manage content creation for the app. I also created a small microsite for the project, which can be found at DrumGuru.com.